SRD grows lacrosse league with 'cowboy' style of play, love for game | Local Sports
4 min read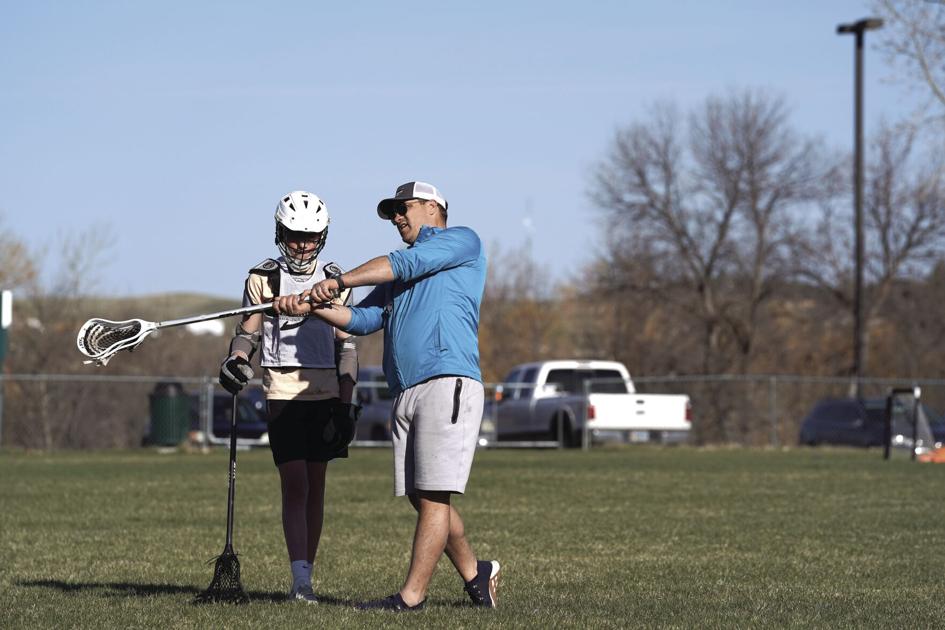 SHERIDAN — A handful of youth lacrosse players towered over their teammates at Dan Madia Field Wednesday before the Sheridan Recreation District players lined up against the rec district's team from Buffalo for the program's first game of the season. The taller teammates were as old as 14, while the shorter players were as young as 7. Playing experience varied, as did the reason for why the athletes began playing the sport. 
Kade Shideman, 10, began playing when he was four after his uncle helped him pick out a lacrosse stick in Minnesota. Gideon Smith, 13, grew up in Houston, Texas, and saw the sport on TV, thought it looked fun and started playing shortly after. Raileh Sirirot, 12, just started playing this year because he plays hockey in the winter and wanted to give lacrosse a try. 
The players' favorite parts of the sport and SRD's league varied too. 
"I like going against the older kids," Shideman said. "… And you get to run around a lot."
"I like hitting people with metal sticks," Smith added. "… And my favorite part is playing defense. I like stopping people from scoring." 
"The checking," Sirirot said of his favorite part, "because we can't check in hockey yet."
In a similarly random fashion, SRD lacrosse head coach JR Wright traded his baseball bat for a lacrosse stick in high school in Fort Collins, Colorado, after watching his baseball teammates carry lacrosse equipment in and out of the locker room. Wright's intrigue led to a newfound love for the sport, as he played lacrosse for the rest of high school and went on to compete on the University of Wyoming's club lacrosse team until 2007. 
The lacrosse veteran hoped Sheridan would start a recreational program and, when it didn't, he decided to start one himself. Wright approached former SRD Executive Director Richard Wright, his uncle, wanting to hold a clinic with a former UW teammate and current NCAA women's lacrosse coach. Fifty youth players showed up to the clinic in the summer of 2018 as a show of the appetite for lacrosse in Sheridan County.
"I think more than anything, I wanted this sport and this game to be available to the kids in Sheridan," Wright said. "And we just kind of made it happen, and I'm thankful to the rec district for funding it." 
Fifty-five youth players returned to the field for the rec district's spring season in 2019 and the coronavirus forced the cancellation of the 2020 season, slowing momentum marginally, especially because the University of Wyoming and Montana State were scheduled to play their sanctioned lacrosse game in Sheridan last spring. 
But 58 lacrosse players showed up for the start of this spring's season, as a reflection of lacrosse participation more than tripling in 2019 since the formation of US Lacrosse in 1998, according to US Lacrosse. The Next College Student Athlete organization claimed men's college lacrosse is the "fastest growing sport in the country," pointing to the addition of five NCAA Division II programs and 16 Division III programs in 2019.
Wright attributes the rec district's growth of participants to both families relocating with children who have played in other areas and word-of-mouth advertising between the players, though he suspects technology and social media increasing accessibility to lacrosse content prompts children to sign up. 
"The kids love playing it," Wright said. "And they tell their friends at school." 
"It makes me feel happy," Smith said of the growth in Sheridan. "It makes me think next year there will be more kids and more teams we play, so I'll get to have more games."
Once an athlete signs up to play with the rec district, they only need to bring cleats to practices and games. The rec district provides all other equipment for the league, and parents and players quickly become hooked on the fast-paced, high-scoring, contact sport.  
As player participation has grown, the rec district's coaches commit themselves to offering their expertise to the under-14, U12, U10 and U8 teams that have a varying degree of ability, but a decrease in the number of coaches from 2019 to 2021 has made one-on-one instruction challenging at times. 
Adding coaches and players makes Wright hopeful to add high school and all-girls teams in the future to play competitively against other schools in Wyoming and the region. Sheridan's head coach pointed to the success of the Cody Warriors U14 boys lacrosse team, who won the 2018 Montana State Championship title in the silver division. 
Wright acknowledges the Mountain West isn't known for its lacrosse like the East Coast but said Wyoming has developed a physical, hardworking style of lacrosse.
"During my days at Wyoming, we played hard, we played physical and brought a cowboy attitude," Wright said. "… My kids have a lot of grit. They play hard, and they have a great attitude. They don't quit, and they've got a lot of drive. I'd put them against anybody in the region."
When Wright's Sheridan players competed against Buffalo, Wright played referee and coach simultaneously offering advice and policing the game. Seeing his players develop technical skills regardless of height or size makes lacrosse Wright's favorite sport, and the growth of Sheridan's league affirms his love for the game.
"Watching the kids fall in love with the sport like I did," Wright said. "That's the best part."